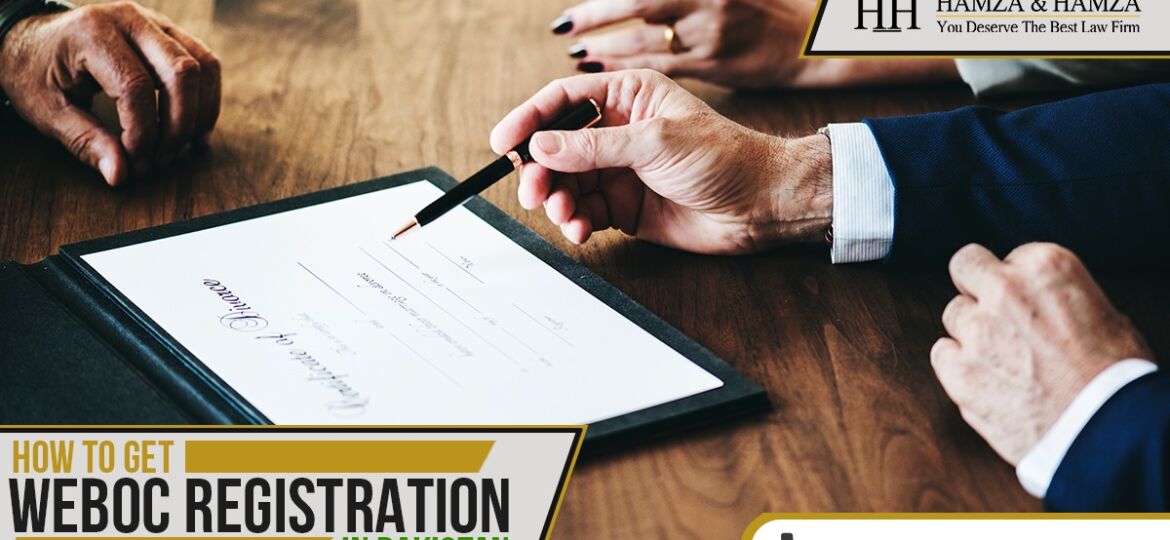 How to Get an Import/Export License in Pakistan ?
Owing to need of Country to bolster its economy, Government of Pakistan in order to encourage people to engage in import and export business, have introduced Pakistan Single Window Act 2021. click on the link below if you want to know How to obtain license for Import and Export in Pakistan from Pakistan Single Window?
Weboc Registration
Weboc since several year after having been introduced in 2011 has played an important role to facilitate not only traders but also custom officers and agents. Since 2011, this online system has been playing a huge role in facilitating the traders, custom officers, and agents. It has simplified the filing process and also contributed in promoting Online Goods declaration, quick clearances and fast tracking system.
It is normally perceived by traders and start-ups that custom clearance is a not just difficult but a time consuming process in Pakistan. Traders can now easily and conveniently engage in import and export business themselves in their names yet because of the above notion they hire custom agents for the job who either declare goods in his own name or in name of person who holds a Weboc license. This is notion is because of traders in Pakistan have zero or less awareness pertaining to new paradigm shift in the trading field. By the use of Weboc traders can easily make declarations of their import and export, seek clearances and get duty and taxes assessed.
One of the main benefit of having Weboc license and making import and export through own Weboc is that trader can easily show a trail of his transaction and has no problem confronting the Revenue Authority in case of audit in future. So much so, he not merely avoids being taxed for unable to prove and substantiate trail of money before revenue authorities but also generate white money for the purpose of Federal Board of Revenue.
List of Documents required for WEBOC Registration in Lahore for Private Limited Company
Original CNIC of Directors
Original Nadra Verification receipts of Directors
Original Income Tax Certificate issued by FBR
Original Sales Tax Registration Certificate
Original Incorporation certificate from SECP
Original Memorandum and Articles of Association attested by SECP
Form II, Form 29, Form A certified by SECP
Original Proof of Ownership or rent agreement of Business premises along with photocopy of Landlord
Latest Income tax return filed with FBR
Income Tax Active Taxpayer filing Status
Sales Tax Active Taxpayer filing Status
Valid Original Chamber of Commerce license
Latest Original Electricity bill of Business Premises
Latest Original PTCL bill on relation to Business Premises
Undertaking as per format on Stamp Paper valuing Rupee 100
Bank statement for the last six months having minimum Balance of Rs. 300,000/-
Original Bank Maintenance Certificate of the Company
Cash deposit Rs: 500/- Bank receipt (Original) or Pay order of Rs. 500 in favor of Director Custom
Personal Appearance of the Director with visiting card and Passport size Photographs.
Original Board Resolution for WEBOC ID
Documents required for registration of WEBOC for Sole Proprietor
Original CNIC of Sole Proprietor
Verification from NADRA
Original NTN Certificate issued by FBR
Original STRN Certificate issued by FBR
Documents of ownership of business premises or the rent agreement along with photocopy of CNIC of landlord
Valid Chamber Of Commerce Certificate
Active Taxpayers List status for Income Tax and Sales Tax
Utility bill of Business premises
Undertaking as Per Format on Rs. 100/- Stamp Paper
Filled Registration Form of WeBOC
Bank statement of the business account for the last six months
Bank Maintenance Certificate of the Business account
Bank receipt of Cash deposit Rs. 500/-
Personal appearance with visiting card.
Request letter for issuance of WEBOC ID on cover letter
Documents required for Weboc Registration of Partnership Firm
Original CNIC of all the Partners
Nadra verification of CNIC of all Partners
Original NTN Certificate
Original STRN Certificate
Original Partnership deed and Form C
Ownership document of business premises or rent agreement with landlord CNIC copy
Valid Chamber Of Commerce and Industries Certificate
Active Taxpayers List Income Tax and Sales Tax
Undertaking as Per Format on Rs. 100/- Stamp Paper
Filled Registration Form of WeBOC
Bank statement of the business account for the last six months
Bank Maintenance certificate of the Business account
Bank receipt of Cash deposit Rs. 500/-
The appearance of the Partner personally with the visiting card.
Request letter for issuance of WEBOC ID on official letter Head
Authority letter on the Rs. 100/- stamp paper from the other partners
Our Services relating to WeBOC registration are as follows:
Support and guidance for registration
Preparation of documents
Documentation for registration
Fee deposit
Filing of registration form